EMERALD COAST CRIME STOPPERS CRAWFISH BOIL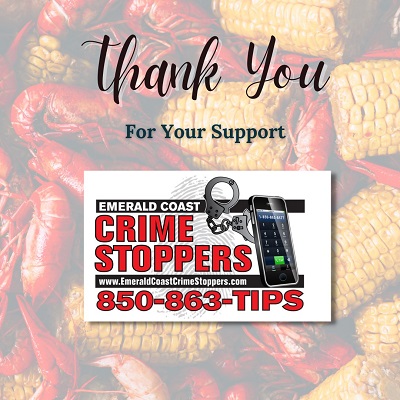 THANK YOU to our wonderful community for your overwhelming support of our annual Crawfish Boil and Mudbug Run Fundraiser on April 15th at Uptown Station in Fort Walton Beach. The event was a wonderful success again this year and raised money to help our law enforcement partners solve crimes! Special thanks to our community sponsors, volunteers, OCSO Explorers and School Resource Officers who helped make this event such a success!
CRAWFISH BOIL SPONSORS:
Okaloosa County Sheriff's Office
Emerald Coast Funeral Home
Walton County Sheriff's Office
Eglin Federal Credit Union
Family Eye Center - Dr. Michael Fregger
The Watkins Group Crystal Watkins-Keller Williams Realty
Galati Yachts Sales, Broker John Hodskins
H2 Hose Pressure Washing & Cleaning
Ed & Tami Smith, Remax Coastal Properties
MUDBUG RUN SPONSORS:
Coastal Roofing
TSP Screenprinting and Embroidery
Leaves the Ninety Nine Designs
Hub City Soapery Bath & Body
Bay Area Awards
___________________________________________________________________________________________________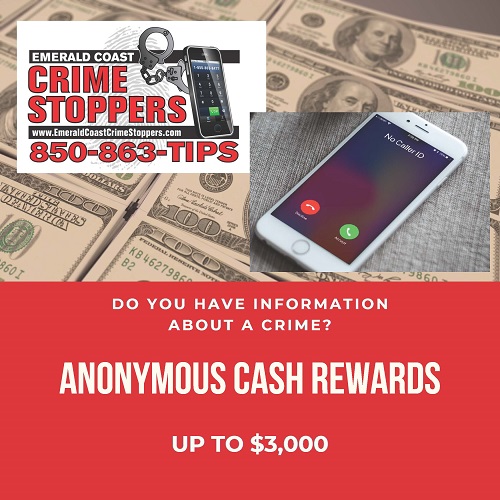 You could get a cash reward of UP TO $3,000!
Do you have information about a crime? Emerald Coast Crime Stoppers encourages members of the community to assist Okaloosa and Walton County law enforcement agencies in the fight against crime by overcoming the two key elements that inhibit community involvement: fear and apathy.
Emerald Coast Crime Stoppers provides a telephone number, web tips and mobile tips to encourage citizens in the community to volunteer vital information helpful to law enforcement agencies to fight against crime.
Tipsters can remain anonymous and are eligible to receive a cash reward if the information given leads to an arrest or indictment.
Rewards range from $50 to $3,000 depending on the severity of the crime, the number of offenders caught and the offences cleared up.
Crime Stoppers relies on volunteer Directors and tax deductible contributions from the public in order to operate the administration of the program.
Emerald Coast Crime Stoppers is no longer taking tips via text. Instead Crime Stoppers now uses the most up to date, encrypted mobile reporting system available – P3 Tips. Tipsters can send crime information and engage in anonymous, two-way dialog with Crime Stoppers from their smartphone or tablet using our P3 Tips mobile application.
P3 Mobile tips are completely secure and anonymous. Tipsters can also anonymously upload photos, screenshots, videos and audio files with their tips.


Click to Download
P3 Tips is available as a free download on the Apple App Store and Google Play.