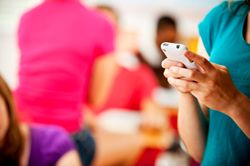 Crime Stoppers to Accept Anonymous Text Tips
Emerald Coast Crime Stoppers is taking advantage of the latest communications technology with the goal of empowering those with information about crime to share it with law enforcement. Text messaging, also known as Short Message Service (SMS), has become a popular means of communication, with over 300,000 text messages being sent every minute in the United States. Anyone with information can now send an anonymous text message to Emerald Coast Crime Stoppers and still be eligible for a cash reward of up to $1,000 if the information helps solve a crime or locate a wanted fugitive.
The process is very simple. To send a text message tip from a cell phone, the tipster must text

"TIP214 plus the message" to CRIMES (274637)

. The key word TIP214 must appear on the first line of the text message in order for the tip to reach Emerald Coast Crime Stoppers. The tipster will then receive an automatic text message reply that will contain their confidential code number that will allow the tipster to provide follow up information to their tip if necessary. Crime Stoppers will be able to send text messages back to tipsters without knowing their cell phone numbers and advise them of the status of their tips and ask additional questions.